This post originally appeared on NewsCred.
BuzzFeed's latest insights report, "How Technology is Changing Media," has gathered up some fascinating stats about how we find, share, and consume information these days. Revolving around new trends in social, mobile, and video usage, the numbers are sure to enlighten and inspire — especially those of us in charge of ad spending (or those of us who wish we were).
Traffic Is Driven by Social Media
It comes as no surprise that a site like BuzzFeed would be getting most of its traffic from social – five times more than traditional search, in fact. But it's not just BuzzFeed and its addictive lists and quizzes. "According to [content amplification and monetization platform] Shareaholic, social is now the #1 source of referral traffic to content on the web."
Stumped as to who's responsible for this shift? Millennials, of course. The 71% of 18- to 34-year-olds who visit social sites on a daily basis do so in part because these platforms have, for many, become primary sources of news and entertainment. Think about it. If you're looking for the day's top stories and headlines, chances are you're checking Facebook or Twitter to follow the conversation in real-time rather than heading to your go-to publisher's website directly.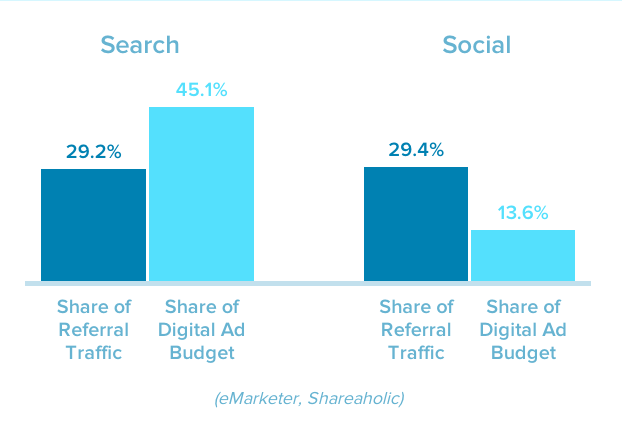 According to BuzzFeed, "social feeds are the new homepage," and in light of such a dramatic shift – and the cold, hard numbers to back it up – the report pushes for a parallel reassessment of ad budget attitudes. Because somehow, despite the indisputable forward march on social, spending seems to be stuck in the past. BuzzFeed's advice? Invest in social now to make room for real innovation and exciting opportunities to engage Millennials in new ways.
It's Time to Think Mobile-First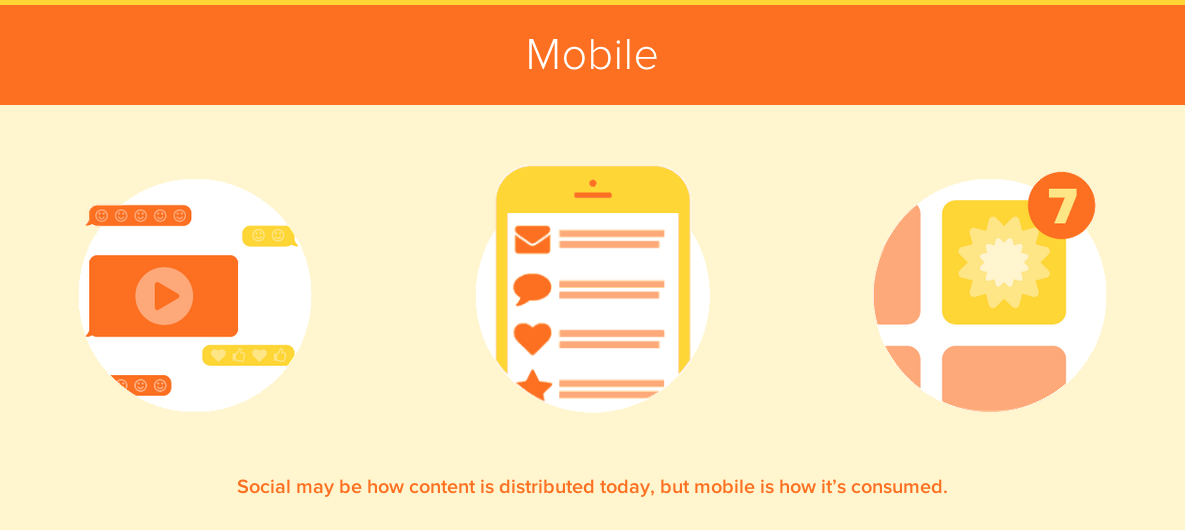 Whatever you do, make sure it's mobile compatible, since 60% of the time that's how users are accessing social platforms. With Millennials spending over five hours per day on their phones, they're also to thank for the extraordinary surge in mobile consumption.
That means if you can't easily view and share your content on a smartphone or tablet, there's no way it's going viral. BuzzFeed knows a thing or two about having millions of eyes feasting on their content, and they've revealed that "2 out of 3 people who read BuzzFeed are doing so on a mobile device." As such, they create content with a mobile-first approach — content that gets shared twice as much on mobile than desktop.
Small screens notwithstanding, the same holds true for video: "U.S. adults spend 50% more time watching digital video on mobile than desktop" and "50% of BuzzFeed's video views are on mobile." In fact, a whole branch of the company (BuzzFeed Motion Pictures) has been set up exclusively to create moving image content, from GIFs and feature films to branded clips, ensuring that there's always something for everyone, no matter where you click.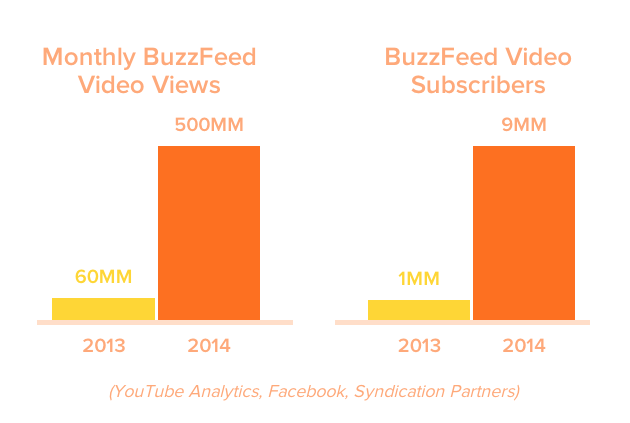 BuzzFeed has made it just as easy to consume video on mobile as anywhere else, which has also contributed to its "unprecedented growth and scale." What's unprecedented? How about 500 million monthly views compared to last year's 60 million? That's a huge jump, and as with social, BuzzFeed predicts that: "Brands who invest in mobile-ready solutions now will win. By getting ahead of the trend, brands will be able to understand, experiment with, and become market leaders in mobile advertising." Convinced yet?
Online Video is the New Primetime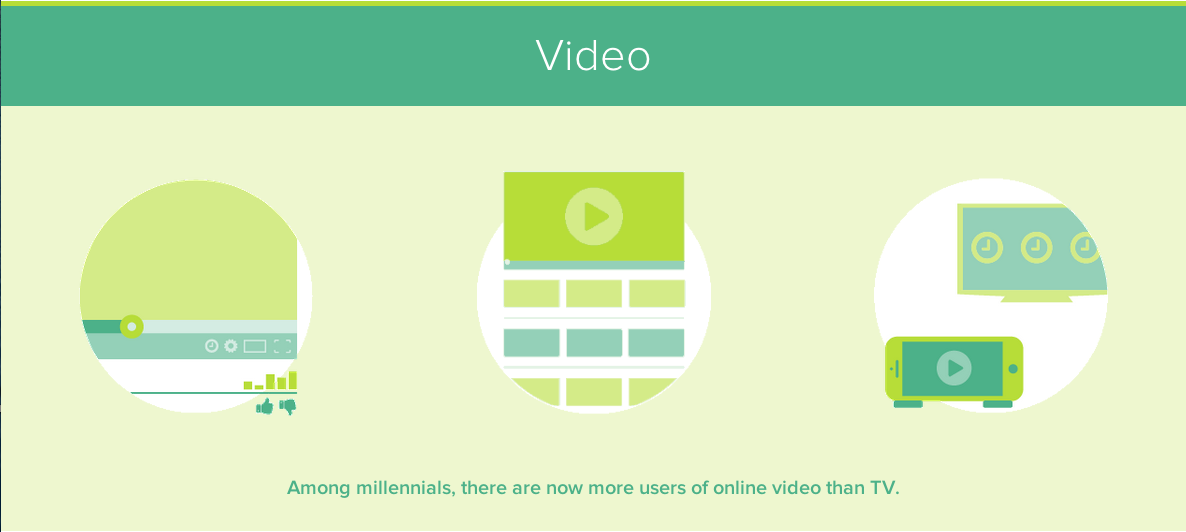 If that's not enough, when it comes to online video, it's no secret that Millennials watch more of it than they do traditional TV. Even when they are watching television, most are hanging out on at least one other device — probably checking out the latest trending stories on BuzzFeed. Actually, the company's reach "now rivals that of the largest TV networks and is even bigger among Millennials."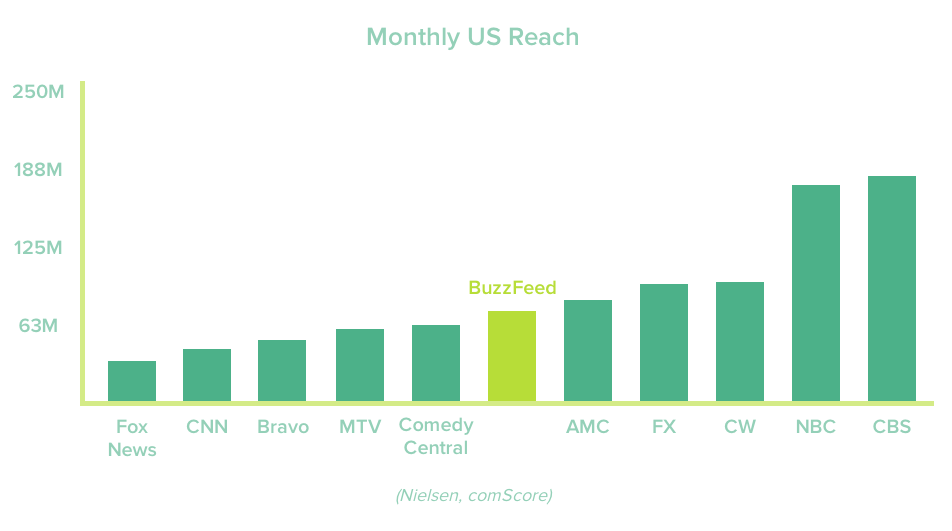 That kind of influence is incredibly powerful, and it's especially attractive to marketers, making it no wonder why brands are so keen to work with the publisher on native ads and other partnerships. Interestingly, BuzzFeed is also finding that the traditional primetime peak viewing hours remain the most popular time to watch their digital videos as well, opening yet another door to advertorial possibilities.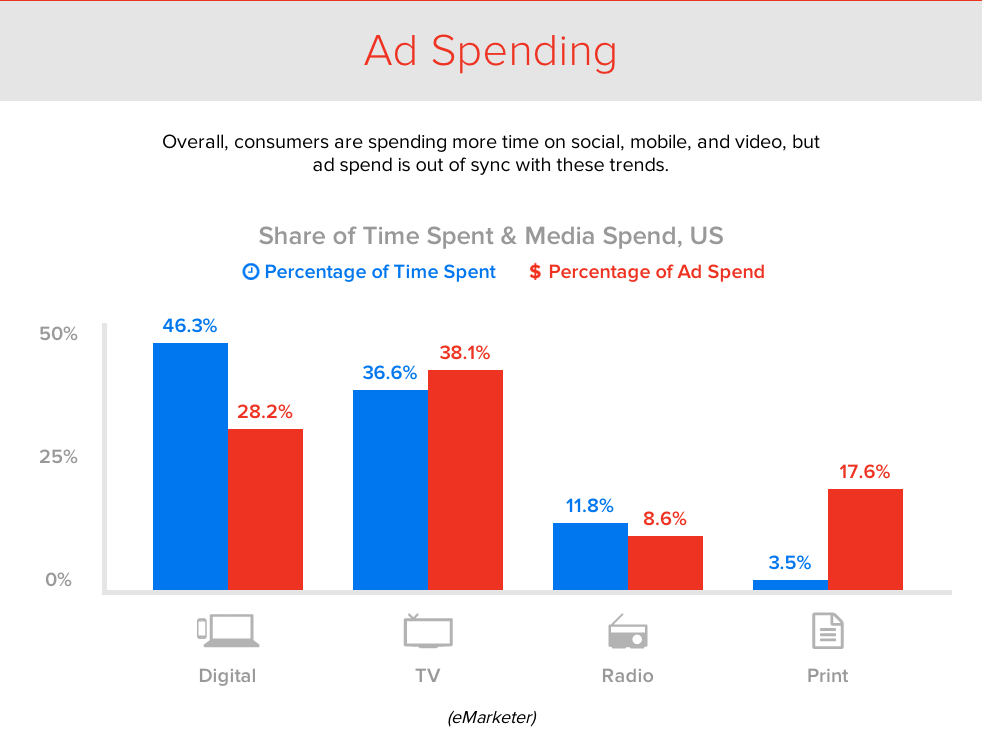 That's why rethinking ad spend in these terms is such a no-brainer, and why it's such a shock to see so little being done to get up to speed with current realities. Yes, it's true that old habits die hard, but come on. Print? Banner ads? Really? Smart brands take heed: Put your money where the action is. Start figuring out how to integrate advertorial in places where people will actually see it and respond. Love it or leave it, BuzzFeed knows what's up, and by the looks of it, it's social, mobile, and video. Don't get left behind.
Want more on creating great content marketing?
Of course, if you need a little help with your content, we'd love to chat.