This post originally appeared on NewsCred.
Content is no longer a buzzword but the best way for brands to truly connect with their audience. This was echoed in London at an eMarketer #eMbreakfast that kicked off with a presentation by analyst Bill Fisher, who reminded us of the complexity and challenges surrounding content marketing. The biggest takeaway? Content will only work when it actually connects with people and betters their lives. In fact, 31% of people share content just because it makes them laugh.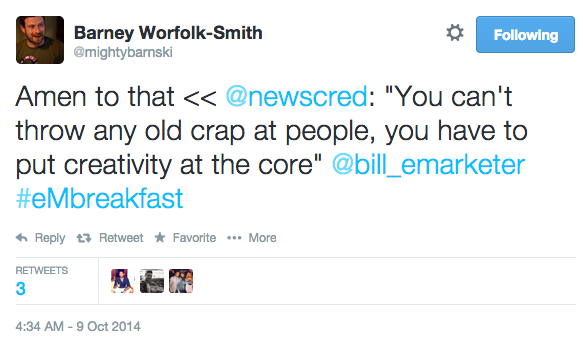 Just Because It Works for Global, Doesn't Mean it Will Work for Local
How do you achieve global scale and consistency with local relevance? It seems to be a case-by-case basis. This was the message of the following panel with NewsCred head of marketing Alicianne Rand, Renee Kaplan (Chief Content Officer, Havas World Wide), Sonia Carter (Head of Digital/Social, Mondelez), Sarah Woods (CoFounder of Unruly), and Aman Matharu (Digital Marketing Manager, PepsiCo). Local markets need the freedom to tailor content based on what will resonate with their audience and what speaks to their culture. This requires global teams to collaborate efficiently with their local counterparts. Additionally, this means that certain global campaigns shouldn't always touch local markets.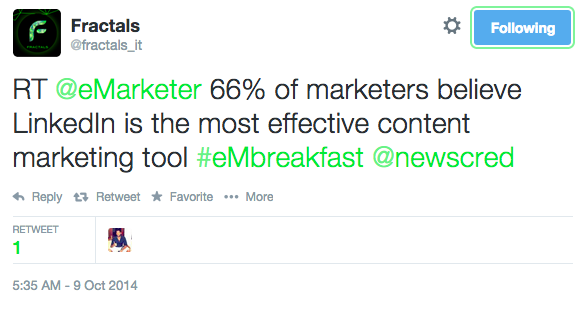 Only Spend for Distribution with Great Content, but Monitor Closely and Act Swiftly
"Paid is extremely important, but anyone can buy media. The content itself is really important. Our top performing post was only 10% paid." —Aman Matharu, PepsiCo
A common theme across all speakers was that when it comes to paid distribution, the content itself needs to perform well. Matharu explained that Pepsi's current tactics for content is to publish organically, wait 2-3 hours and see what happens. If it performs, then it gets amplified. Sarah Woods even shared that when it comes to video, its viral peak is only within 48 hours. Look at your content's performance and then ride the wave, spending only on what is already performing organically.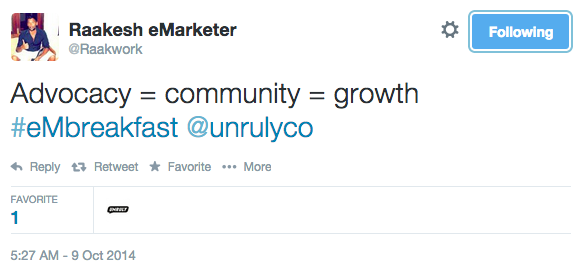 Wish For More Than Shareable
"Shareability is key, but is it memorable?"—Sarah Woods
Content metrics need to go beyond views and traffic. When it comes to measuring content performance, Sonia Carter explained the Mondelez approach: reach, relevance, reaction. These metrics are key because reliable data is the only way to drive educated business decisions.
The event was a reminder that when it comes to creating an effective marketing strategy, you need to create amazing content, arm yourself with an effective distribution strategy that is both proactive and reactive, and measure the metrics that actually matter. Look at the numbers that provide insights into emotional response; not just how many people clicked on your link.
Want more on creating great content marketing?
Of course, if you need a little help with your content, we'd love to chat.