As creatives, we constantly crave inspiration. That's why we often find ourselves clicking on TED talks during our downtime. These presentations shed light on subjects we are fascinated by and—more excitingly—those we never knew we were fascinated by. (We're not the only ones who are obsessed; TED talks have been viewed more than a billion times.)
We find TED's philosophy, "Ideas Worth Spreading," particularly relevant to our own work. We are visual communicators who love nothing more than making a complex idea instantly comprehensible, in the same way TED presenters distill and present their ideas. So, when TEDxOrangeCoast requested our help with creating visuals for the 2013 conference, we were more than happy to contribute.
OC's greatest minds convened for TEDxOrangeCoast 2013.
The theme for the conference was "Beautiful Minds," a topic we were eager to explore during our first company hack day. We aimed to harness the collective brainpower of the whole company—from designer to accountant—to see what our own beautiful minds could come up with. After vetting the many wonderful ideas (and reeling ourselves in a bit), we decided on artwork and an installation that would show viewers the beauty of their own brain, as well as the beauty of the collective mind.
The Artwork
The human brain is incredibly powerful, yet we often pay little attention to it. We wanted to remind conference attendees of the brain's amazing abilities but do so in an intriguing and artistic way. We decided the best way to do this would be to produce eight abstract visualizations, each interpreting an awe-inspiring fact about the brain.
From visualizing the 100,000 miles' worth of blood vessels that carry blood through the brain to depicting the actual amount of energy the brain generates, these pieces conveyed fascinating information in a truly beautiful and impactful way.
Visualizations to convey the power of a "Beautiful Mind." 
Your brain loses approximately 85,000 neocortical neurons each day; this loss adds up to less than 1% of the total in the brain, even after three years.
All eight pieces were exhibited throughout the conference space, enticing conference attendees to step up and learn more about the meaning behind the visual. We also printed 5,000 replica posters of the visualizations, which attendees received in their gift bags—a unique and completely original keepsake to make a lasting impression long after the conference.
Additional "Beautiful Minds" artwork appeared on the TEDxOC speaker stage and around the conference. 
The Installation
At the TEDxOC conference, people from a variety of disciplines come together to share their work, thereby advancing the knowledge and understanding of the larger community. These conversations and exchanges of creative ideas are the core of the TED spirit.
For our installation, we wanted to give attendees the experience of seeing how their individual "beautiful mind" contributes to the collective mind. So, we devised an installation to showcase the diversity of the TEDxOC audience, in age, geography and creative philosophy.
To do this, we created a three-panel installation; each panel posed a question for participants to answer:
Where are you from?

How are you creative?

Where does creativity come from?
Participants placed colored labels, which correlated to their age group, on each panel to answer the question.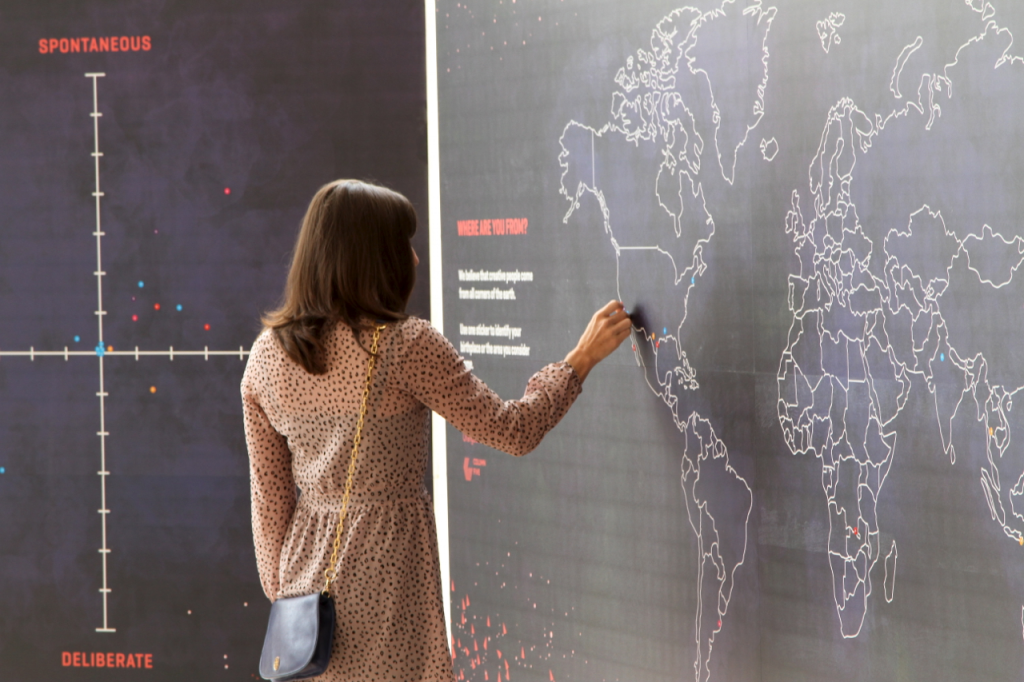 The result was a colorful, dynamic mosaic that grew over the course of the conference. By the end of the event, the installation revealed a comprehensive picture of the collective TEDxOC mind.
Now that we have deconstructed the installation, we are finally ready share those results.
What We Learned
Attendees answered questions that gave us insight into the way they think creatively, giving us valuable data.
TEDxOC is truly a meeting of the world's greatest minds. Attendees came from all over the world, from Afghanistan to Tasmania.
TEDxOC attendees showed an affinity for problem-solving over other types of creative endeavors—particularly older TEDxOC attendees. Writers were the second-largest group, followed by those in the art/design field.
When it comes to beliefs about the origins of creativity, more attendees believe it is an innate trait—but even more believe that creativity is spontaneous.
In addition to the fun we had creating these pieces for TEDxOC, we also had a fantastic time at the event. Much of our team was able to attend, and we all came away encouraged and inspired by what we learned. And as for our installations, we used our beautiful minds—and hands—to recycle them into new office decor.
NEED HELP WITH YOUR VISUAL CONTENT? LET'S CHAT.